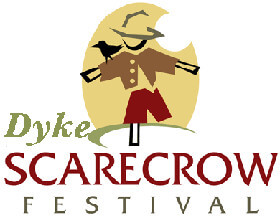 Annual
Dyke Scarecrow Festival
The ever-expanding Dyke Scarecrow Festival is set
to return from 11th-13th September 2020.
Over the weekend an invasion of scarecrows will engulf the village. They hang from trees, peep around corners, relax in gardens and hide behind walls all in competition to be the very best scarecrow!



New bookings for 11-13 September 2020
Over the three days, there will be live entertainment, a variety of stalls selling interesting or tasty items, classic cars and exhibitions. This year The Wishing Well will be the main venue for the event.
The Wishing Well Inn will provide a beer festival, food and live bands in the evenings. There will be refreshments in the Village Hall; tea and homemade cakes and the chance to browse, admire or purchase original artwork from Rippingdale Art Group.
Oh, and lots of scarecrows!
As the event gets closer we will bring you a rundown of what's on and when.
You don't have to be a resident of Dyke to display a Scarecrow. A space will be found for you. If you wish to take part, please contact the Dyke Scarecrow Festival Co-ordinator, Marilyn Howe on 07765 496125 or contact@dykevillagehall.org.uk.
To book your stall please complete the booking form below.
Exhibitor Booking Form:
Contact: Marilyn Howe 07765496125 0r email 'contact@dykevillagehall.org.uk'
(An alternative contact phone number will be given for use at the event)
Bookings will be made on a first come, first served basis – we will need your completed form and the £15 per stall non-returnable fee to confirm your booking.
We would also appreciate donations from your sales as this event is aimed at raising funds to support and maintain Dyke Village Hall. Many thanks!
Please bring everything you need including tables and chairs and any additional gazebos. We have areas under cover for exhibitors who need it – state this on your booking form with your reason, so we can allocate these areas to those in most need.
You can park close by in the designated parking area unless you state that your vehicle needs to be with you (this won't be possible for most).
Let us know if you have any special requirements.